Welcome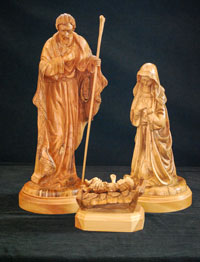 Christmas Eve Candlelight Worship
5:00 pm—Family Worship - Especially for the Young
We will present a "readers theater" of the Christmas story with simple costumes (directed by Bonnie Marchesani). The childrens' choirs will sing as usual; and there will also be a sermon, offering, and passing of the light at the end of the service.

7:00 p.m.—Traditional - More Adult Family Worship Service
This service is more traditional and includes Lessons and Carols, along with a sermon, offering and the passing of the light at the close of the service. There will be lots of music and the full Christmas Story.
Hello and welcome to our website,

I'm glad you've found us. If you are looking for a church, please come and worship with us some Sunday. While you can learn a good deal on-line, the best way to learn about a place is to visit it.
I believe that God made us with a desire to be with other people. Even the most private person is designed to be in relationships, to connect with others, to know and to be known. God does not want us to be lonely or alone, especially during the rough patches in life.
Through the church God gives us relationships. They may be with people we'd never have expected, but that's the way He works. He blesses us through each other, in tangible and intangible ways.
But the most important relationship God gives us is with Jesus Christ. In Jesus, God became human so we could know Him better. Through the life, death and resurrection of Jesus we see God more clearly and know God more fully. And because God raised Jesus from the dead we can have hope that no matter how bad it gets, it will get better. This is a promise from God.
God's love is unconditional and we hope that when you visit us you will experience His unconditional love through the hospitality of the folks here in this church. God's blessings and love are for you, no strings attached.

In Christ,

Rev. Gail Miller, Pastor